History
World leader in snowshoeing and in the field of mountain equipment, TSL OUTDOOR launched its TSL RESCUE range in the early 2000s, at the service of rescue teams in perilous environments.
Rescue was created almost 20 years ago when the PGHM of Chamonix came knocking on the door of Phillipe Gallay, CEO of TSL at the time president of Thônes mountain rescue, to ask him to create a functional, light and removable.
TSL RESCUE products are faithful to the core values of TSL: Technique, Innovation and Quality.
They are developed through an original process that involves specialists in the fields concerned at each stage of development.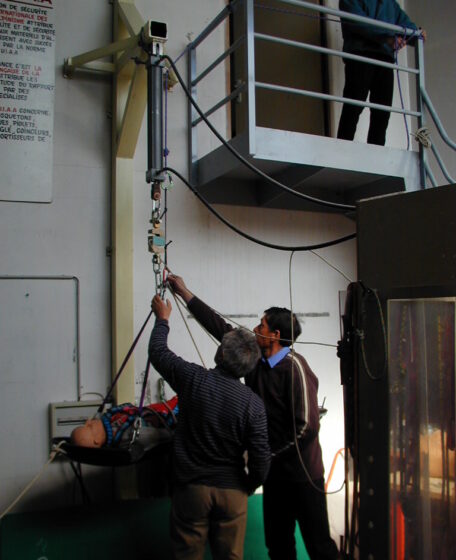 Designed by French and Italian mountain rescue specialists in 2003, the Franco Garda helicopter rescue stretcher is a versatile, reliable tool that is easy to use, in the high mountains, for wall rescue, in aquatic environments and on snow.
After 4 years of development and collaborative work between the PGHM, the TSL design office and the Alpin Valdôtain rescue team (located in Italy), the Franco Garda stretcher (in tribute to the former president of the Alpin Valdôtain rescue team) was born. .
A structure that is both light and resistant, a new joint concept, a high-performance medical system: we have developed it with demanding users to best meet your expectations. Its design, allowing the interchangeability of the different elements, allows great modularity: standard or extended rear hull, standard or marine cover, quick adaptation of specific parts to each type of use. The Franco Garda stretcher is scalable and adapts to your operations. It also offers innovative systems for carrying, helicopter winching and snow rescue.
All the components of the stretcher are made in Rhône-Alpes and it is assembled in Annecy le Vieux, right next to the TSL snowshoe production workshops. A product therefore 100% French.
We have also developed other rescue products such as avalanche bags, High-line, a range of stretcher accessories or another stretcher model, the Piguillem, which has simpler characteristics than the Franco Garda.